Autumn Internationals-billetter
Finn de billettene til Autumn Internationals som du leter etter på viagogo, verdens største billettmarked. Velg et arrangement for å se utvalget av tilgjengelige billetter, eller se kalenderen for å finne alle datoene med tilgjengelige billetter. Du kan også selge ekstrabilletter du har til Autumn Internationals på viagogo, og det er gratis å legge ut billettene for salg. Alle billetter til Autumn Internationals dekkes av viagogo sin billettgaranti! p>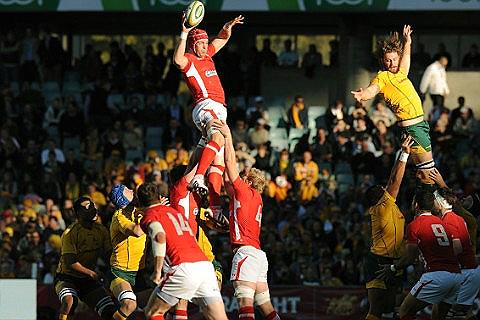 Autumn Internationals
The Ticket Marketplace
Garantert

Alle billetter er dekket av viagogo sin garanti

Sikker betaling

Vi betaler ikke selgeren før etter at du har vært på arrangementet

Sikker leveranse

Levert som elektronisk billett eller via bud
Vi er offisielle
Internasjonale begivenheter
Dato

Arrangement

Land

Pris fra

Tid & dato vil bli bekreftet

England - Australia - Autumn Internationals 2013

Twickenham Stadium

,

London

GB

Storbritannia

kr 1 569,88

Tid & dato vil bli bekreftet

England - Argentina - Autumn Internationals 2013

Twickenham Stadium

,

London

GB

Storbritannia

kr 903,34

Tid & dato vil bli bekreftet

Wales - Sør-Afrika - Autumn Internationals 2013

Millennium Stadium

,

Cardiff

GB

Storbritannia

kr 866,86

Irland - Samoa - Autumn Internationals 2013

Aviva Stadium (Lansdowne Road Stadium)

,

Dublin

IE

Irland

kr 388,68

Wales - Argentina - Autumn Internationals 2013

Millennium Stadium

,

Cardiff

GB

Storbritannia

kr 868,26

Tid & dato vil bli bekreftet

England - New Zealand  - Autumn Internationals 2013

Twickenham Stadium

,

London

GB

Storbritannia

kr 1 762,82

Tid & dato vil bli bekreftet

Skottland - Sør-Afrika - Autumn Internationals 2013

Murrayfield Stadium

,

Edinburgh

GB

Storbritannia

kr 558,11

Irland - Australia - Autumn Internationals 2013

Aviva Stadium (Lansdowne Road Stadium)

,

Dublin

IE

Irland

kr 690,14

Wales - Tonga - Autumn Internationals 2013

Millennium Stadium

,

Cardiff

GB

Storbritannia

kr 498,21

Irland - New Zealand  - Autumn Internationals 2013

Aviva Stadium (Lansdowne Road Stadium)

,

Dublin

IE

Irland

kr 1 176,01
Billetter til Autumn Internationals
The Autumn Internationals usually take place in November and are general feature a touring side from the Southern Hemisphere, New Zealand, South Africa, Australia as well as the Pacific Islanders (a team made up of players from Tonga, Samoa and Fiji) and taking on Northern Hemisphere teams like England, Ireland, Wales, Scotland, France, Italy and the Barbarians in their own back yard. Autumn International tickets are hot property as fans grab the year's only opportunity to see the All Blacks, Springboks and Wallabies in the flesh at grounds like Twickenham, Croke Park, Millennium Stadium and Murrayfield. Most touring sides generally play four or five games, often concluding with The Final Challenge against a Barbarian select XV. The Final Challenge game between the Baa-baa's and the touring side lends a unique element to the tour and makes Autumn International rugby tickets even more desirable. A touring team may complete a Grand Slam if they defeat the four home nations, that is to say, England, Ireland, Wales and Scotland. If you are a rugby fan then you will want Autumn International Tickets and if you are a sports fan you will want Autumn International rugby tickets, so don't miss these the renewal of these longstanding rivalries, get your Autumn International tickets now.
viagogo er en online markedsplass for billetter til konserter, sport og teater.
Billettvarsel
Meld deg for å få aktuelle Autumn Internationals informasjoner og tilbuder
E-postadressen er ikke korrekt.